Biography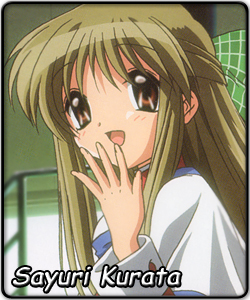 Name: Sayuri Kurata
Title Series: Kanon
Voice Actor: Tomoko Kawakami
Eligibility: 15th ('07 Japan)

Biography - Psieye, KholdStare88
Schedule - KholdStare88
Image - Mushi

Sayuri is the daughter of a wealthy family. She had a strict upbringing, and thought this was the proper way to raise children. She was strict on her younger brother, Kazuya, but the boy was born with poor health and crumbled under her apparent meanness. At his sickbed, cried to be honest with her feelings, she bringing toys and snacks to enjoy with her brother as she had always wanted to. This event in her early years shaped her outlook on dealing with treasured ones, but it was Mai who is responsible for her usual cheery attitude. On her first day meeting Mai, an angry stray dog was barking in front of school. Mai was the one who chased it away, but when Sayuri did some searching later, she found Mai's gentle side, feeding the dog. Sayuri believes that Mai saved her, not just literally but figuratively. Even though Sayuri always tries to help Mai and be her friend, Sayuri considers Mai to be a much larger help to Sayuri because Sayuri can now express what she wanted to do for all her life, what she could not do for Kazuya.

Her trademark is "Ahaha~," with emphasis on the last syllable. She is a rather flexible, light-hearted senpai who can accept just about anything without questions or doubts. She cooks bentos for in-school picnics every day for Mai (and sometimes Yuuichi). While Mai has not told her about her supernatural abilities or the dangerous fights with the invisible demons, Sayuri can clearly see that Mai is the target of prejudice and supports her without question. When Mai starts spending time with Yuuichi, Sayuri also wanted to help with all costs. The birthday present she was going to give Mai was a huge ant-eater stuffed animal that the toy shop just could not sell for 3 years. By "huge," it is "about as tall as Sayuri herself." Even though Mai does not show much appreciation to Sayuri, an event later on confirms that Mai does indeed reciprocate Sayuri's feelings and is very thankful for what Sayuri does for her.