Biography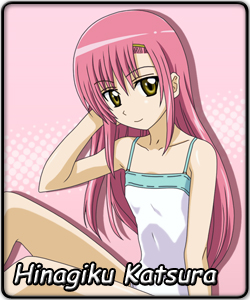 Name: Hinagiku Katsura
Title Series: Hayate no Gotoku (Hayate the Combat Butler)
Voice Actor: Shizuka Itou

Eligibility:

1st Place - Korea Best Moe 2007
5th Place - Korea Super Best Moe 2006-2007

Biography - Psieye
Saimoe History - minhtam2448
Schedule - KholdStare88
Image - qtipbrit92

Hinagiku Katsura is the student council president of the prestigious Hakuou Academy and also the captain of the Kendo club. An unofficial idol at school who garners fans from both genders, she has to take care of her older sister, a teacher who illegally sleeps at school to save on rent money, as well. Hinagiku is a kind and competent tomboy who wears sports shorts underneath her skirt so she'll never have to worry about a panty shot. She has her fears, most notably vertigo, but they are slightly hidden by sheer stubbornness and pride. When the crack plot demands it, Hinagiku is always available to be a competitive fighter (and given the crazy Principal, this happens often). Taking up the Tsukomi role like Maria, she is quick on the uptake, realizing what's really going on when male lead Hayate Ayasaki has to cover up for his mistress, female lead Nagi Sanzen'in.
Past Saimoé History
Compared to love-rival Nagi, Hinagiku is a relative unknown within the Hayate no Gotoku storyline. However, a small escape from that world proved otherwise.

In her first year in the Saimoe Circuit, Hinagiku seemed to be a dark horse among few competitors. However, she proved that she had a chance in a dominating first round performance in Saimoe Japan 2007. Despite this, she was knocked out early in a 29 point loss to Runa Edomae (Seto no Hanayome) in the second round, denying her a chance to take on 2005 champion Nanoha Takamichi (Nanoha). Just like many others, she was left as a footnote in Saimoe Japan history, while Nagi went on to finish in 2nd place.

However, Hinagiku came to do much better in Korea's Best Moe. Contrary to some expectations, Hinagiku dominated the preliminaries with more than half of the total votes in each round, and easily made it to the knockout stages. The domination continued, with Hinagiku winning with a 4:1 ratio in her round of 64 and a easy match against another. Her first real test came in the round of 16 against Evangeline McDowell (Negima?!), and although she struggled mightly, she pulled through with a 48 vote victory. In the round of 8, Hinagiku faced Kagami Hiiragi (Lucky Star), who defeated Nagi earlier by nearly 400. However, Hinagiku was able to handle Kagami to an extent of a 50 point victory. After an easy victory in the semi-finals against Tamaki Kousaka (To Heart), Hinagiku gained entry into the finals, which was a two-day matchup against heavy favorite and Nagi-parallel Shana (Shakugan no Shana). With one of the closest matches in Saimoe circuit history, Hinagiku managed to defeat Shana by only two votes to win the Korea Best Moe 2007.

Hinagiku proved herself even further in the special Korea Super Best Moe 2006-2007; with a Korea crown, Hinagiku received the opportunity to go against previous champion and Shana's rival Suiseiseki (Rozen Maiden) in an exhibition match, to which she had won by only 17. However, in the knockout stages, Hinagiku was forced into a rematch with Shana, and this time lost by more than a hundred and was denied entry into the final four.

With Hayate no Gotoku having a planned second season, Hinagiku is currently eligible to take part in the Saimoe Circuit for the next few years, but the element of surprise no longer exists. Hinagiku is expected to do well here in the International Saimoe League. The question is, can she win the international crown?