Biography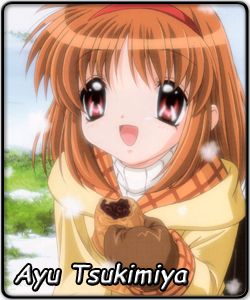 Name: Ayu Tsukimiya
Title Series: Kanon (2002, 2006)
Voice Actor: Yui Horie

Eligibility:

11th Place - International Saimoe League 2008 Preliminaries

Biography - Psieye
Saimoe History - minhtam2448
Schedule - KholdStare88
Image - Mushi

"Out of the way!"

Nope. The boy didn't hear it in time, and as a result, Ayu Tsukimiya's debut scene was hindered by a run-and-fall (won't be the last time they meet this way). She was running away from someone: the taiyaki seller. In a very serious tone, she explains that she couldn't help herself when she bought some (she was hungry) but then realized she had no money. Her childlike mind doesn't think to take off her backpack when asked to look at it, instead spinning round and round in a futile chase. Ayu is famous for her love of taiyaki and her "Uguu~" catchphrase.

She is looking for Something Precious to her. She doesn't know what it is, but male lead Yuuichi Aizawa follows her around looking for it. When asked of her school, she says it's up on the hill behind the village but nobody seems to recall a school being there. In fact she's hesitant to talk about personal details. What is the secret to this cheerful and amiable girl?
Past Saimoé History
One word: Shafted.

That's how Ayu's Saimoe career could be described after years of trying.

Ayu's debut in Saimoe Japan 2002 didn't go as planned, as Toei's adaptation of Kanon was less than expected. She was able to try again in 2005 thanks in part to her cameo appearance in KyoAni's Air, but that didn't go as planned either, as her measly 85 votes didn't stack up to her first round opponents. So in 2006, Ayu, along with the rest of the Kanon group, underwent a total makeover in Kyoto Animation's adaptation of Kanon, and she returned in 2007 with something to prove.

However, it is safe to say that 2007 was not her year. Ayu performed exponentially better in Saimoe Japan 2007, but after struggling against Reinforce Zwei (Nanoha), she lost in the second round to former top eight finisher Eruruu (Utawarerumono), thus being denied a top 32 finish. In her 2007 debut, Ayu didn't perform as well, being smothered by Kagami Hiiragi (Lucky Star) in the preliminary matches, but she was able to qualify for the knockout rounds. However, she met defending champion Suiseiseki (Rozen Maiden) in the round of 32, and lost by merely 84 votes, finishing 20th place overall.

After hearing about the existence of International Saimoe by her friend Nayuki Minase, Ayu wanted to give it one more try. She returned to prove that she has what it takes to actually do well and possibly win a Saimoe tiara, and after finishing 11th in the preliminary rounds, she was granted a spot in the prestigious International Saimoe League. With so much left to prove and 63+ matches to do it, the girl famous for her love of taiyaki will try to prove that she can be an embodiment of moe and join the ranks of the former champions.